Coated U-Bolts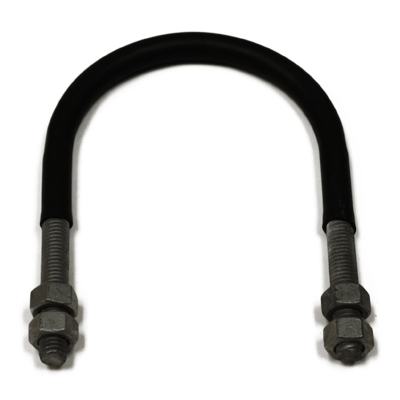 The Coated U-Bolt is a seamless, vulcanized, polyolefin material that can be applied to all types of u-bolts and eliminates metal-to-metal contact. It provides a high abrasive and corrosive resistance on a continuous sheath, eliminating fraying and unraveling. It comes in a variety of sizes and can easily be applied to all makes and sizes of u-bolts.
It is excellent for eliminating corrosion problems on piping in refineries, chemical plants, paper mills, offshore platforms, rigs and the shipping industry.
Virtually unaffected by heat, ultra-violet rays, vibration, electrolysis, sandblasting and any other rigors specific to industrial and marine environments.
The Coated U-Bolt is excellent for use on plastic, FRP or glass-lined pipe for shock absorption.
The Coated U-Bolt also will help reduce vibration and noise levels.