Epi-Seal Seam Sealer and Other Bonding Epoxies
Glas Mesh stocks multiple epoxies to suit most weather conditions and varying applications. Each epoxy kit comes with coarse Emory cloth and spreading tool. Extra brushes and putty knives are available.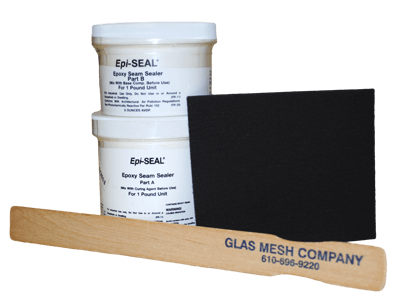 Epi-Seal Seam Sealer
Epi-Seal Seam Sealer is a two component, fiberglass reinforced epoxy resin system most commonly used for bonding FRP Spacers to steel pipe. It is also used for high efficiency repairs on welded, riveted, and bolted tank or vat seams and corrosion pits. Ideal for quickly repairing and making serviceable a wide variety of leaking tanks, vats or drums. Available off the shelf in 1 lb. or 2 lb. kit sizes. Can be supplied in bulk.
Advantages:
Seals leaking seams and rivets or bolts permanently.
Unaffected by fuel and crude oil, kerosene, gasoline, furnace oil, alkalides and mild acids.
Extremely tough, yet "gives" with tank expansion and contraction.
Excellent adhesion to clean, or sandblasted steel surfaces.
Good adhesion to most properly prepared surfaces
Easy to mix and apply.
Will not drip or sag on vertical or overhead surfaces.
Cure can be accelerated by application of heat.
Follow these recommended steps for using Epoxy Seam Sealer to bond FRP Saddles to large diameter (12" & up) pipe.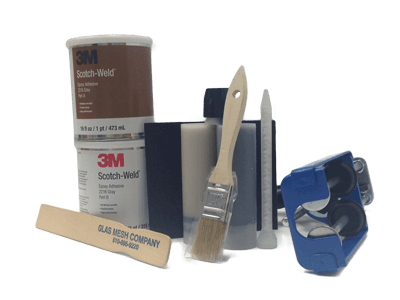 2216 Epoxy Adhesive
2216 Epoxy is a two-part epoxy adhesive that is packaged in pint & quart kits and 6 oz. cartridges. 2216 is typically used to bond FRP Spacers to painted pipe and other low energy substrates.
Features:
High Shear Strength
High Peel Strength
Outstanding Environmental Performance
Controlled Flow
12–24 Hour Cure Times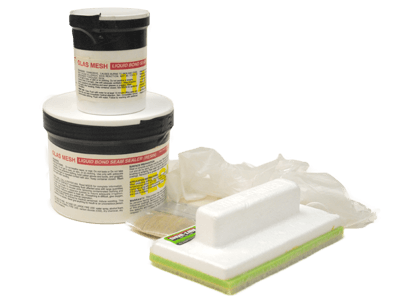 Liquid Bond Seam Sealer
Liquid Bond Seam Sealer is a surface tolerant brush able two-part epoxy developed for wet or dry steel and concrete substrates. This innovative epoxy can be applied on wet surfaces as low as 40°F (4°C).
Liquid Bond Seam Sealer is an environmentally friendly 100% solids material that can be applied when weather and/or temperature conditions would prohibit the use of our standard paste type Epi-Seal Epoxy Seam Sealer. Liquid Bond Seam Sealer is generally used in conjunction with our FRP Spacers for the purpose of correcting or preventing crevice corrosion on above grade supports.
Just like the original Seam Sealer, Liquid Seam Sealer bonds and at the same time effectively seals the spacer-pipe interface. This seal is critical in that it prevents moisture from accumulating between the FRP Spacer and steel pipe. The major difference is that Liquid Seam Sealer is applied by brush and can be used in temperature and weather conditions too hostile for our standard epoxy seam sealer. It is a recommended alternative.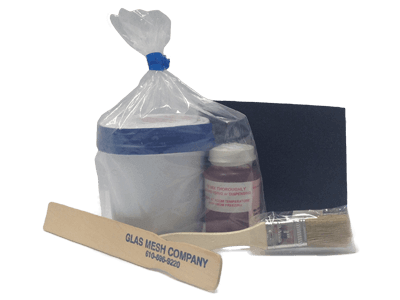 S5H13 Epoxy Adhesive & Sealant
S5H13 Epoxy Adhesive & Sealant is a high temperature special epoxy resin that after a simple ambient temperature cure can be used to bond steel, fiberglass, stainless steel, glass and ceramic materials. S5H13 is a smoothly brush able non-sag easy to apply past that will cure to handling strength over night at ambient temperatures. Produces bonds with excellent shear strength even after long term exposure to temperatures up to 325°F (163°C). Contains no solvents or volatiles.It is machine able and resistance to corrosion and most chemicals and solvents.
IMPORTANT
When bonding FRP Spacers to pipe do not use one part construction / industrial adhesives, sealants, or caulks because they do not have appropriate physical properties for this type of application.
Example: Moisture cured urethane construction adhesive
Please contact us if you have questions.
Seam Sealer Application Procedure Videos