Products
Why FRP?
When considering the advantages of modern plastics (light weight, ease of handling and installation, high dielectric strength, no corrosion problems), and their disadvantages (cold flow, cold temperature embrittlement, heat distortion, low abrasion resistance, relatively low compressive strength), it becomes obvious that fiberglass reinforced plastic (FRP) provides all the physical advantages and properties while eliminating or materially reducing the disadvantages of the non-reinforced plastics.
FRP's properties of light weight, ease of handling and installing, high dielectric strength, corrosion resistance with great compressive strength combine to make it the state-of-the-art material for Glas Mesh FRP abrasion control and electrical insulation products. Glas Mesh FRP products will not cold flow under pressure nor become brittle in cold temperatures, will not soften nor distort from heat, and they have excellent abrasion resistant properties.
Glas Mesh products are manufactured by hand lay-up or filament winding from polyester, vinylester or epoxy resins, depending on type of application and temperature requirements. The materials are highly pigmented and gel coated for excellent ultraviolet resistance. Glas Mesh products meet all known industry recommended standards, specifications and properties.
View Our Product Catalog (PDF)
Our Products
Click any product to view more information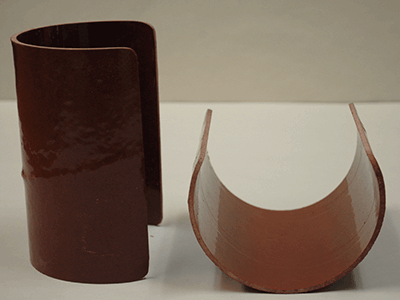 Type #240 Roll-On Shields
Roll-On Shields are a fiberglass reinforced plastic, 240° circular, pre-shaped method of electrical isolation for suspended pipe mains.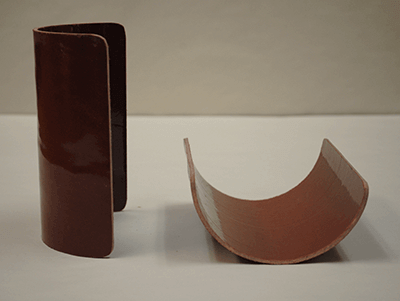 Type #180 Saddles
Glas Mesh FRP Saddles are non-conductive, pre-shaped 180° peripheral snap-on pipes, fabricated from a hand laid up ultra-violet protected, salt tolerant, fiberglass reinforced vinylester resin.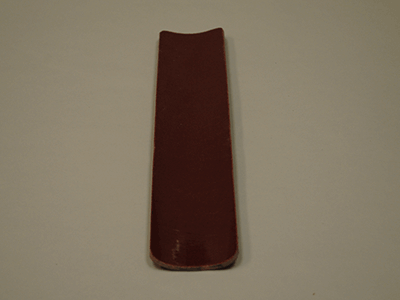 Type #30, 60, 90, 120 Spacers
FRP Type #30, 60, 90, and 120 spacers used with Epoxy Seam Sealer are a cost effective, long term solution to above grade crevice corrosion.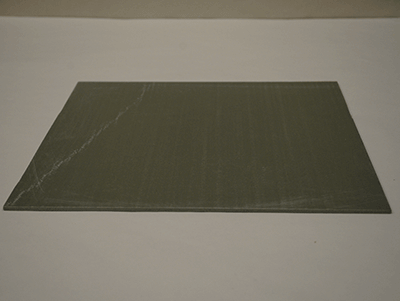 FRP "Flatties"
Flatties are made of a select combination of random glass mat reinforcements saturated with polyester resins combined with suitable fillers.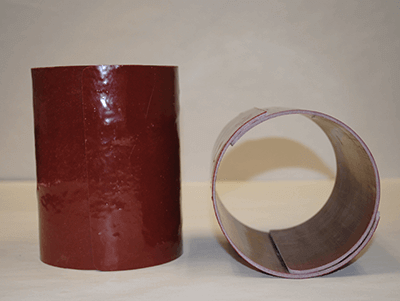 Type #220-240 Casing Insulator
A tough, inexpensive, 2 piece casing insulator that electrically isolates a gas main carrier main from a steel casing. Provides excellent abrasion control.
Coated U-Bolts
The Coated U-Bolt is a seamless, vulcanized, polyolefin material that can be applied to all types of u-bolts and eliminates metal-to-metal contact.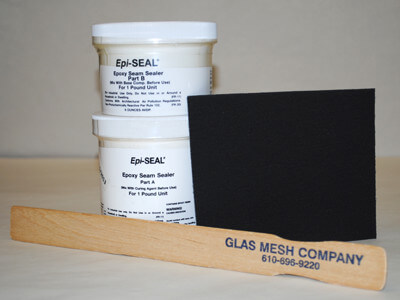 Epi-Seal Seam Sealer and other Bonding Epoxies
Seam Sealer is used to bond and seal the inside surface of the FRP Spacer to the corresponding pipe surface.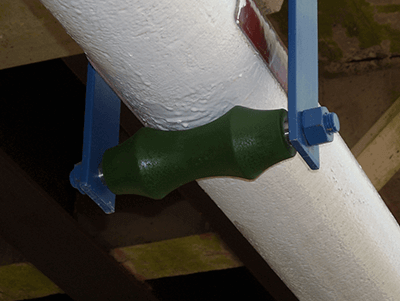 Non-conductive Pipe Rollers
Non-Conductive Rollers are used in lieu of FRP Shields with any thin barrier coating. The urethane based rollers are used as a direct replacement for cast iron rolls.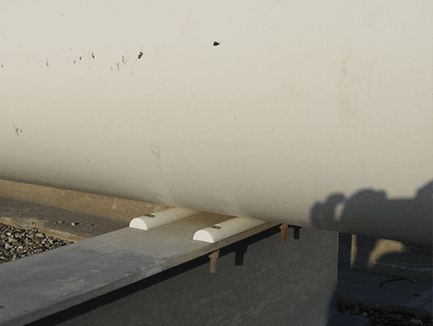 FRP and Co-Polymer Half Rounds
Half Rounds minimize pipe to support surface contact which allows moisture to drain away from the bottom of the pipe at the point of contact.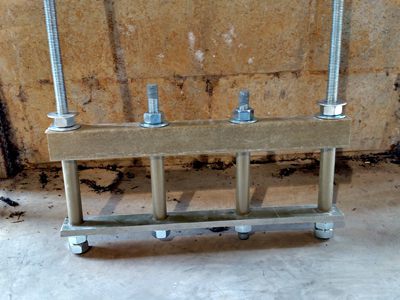 Conduit Hangers
Includes: ¾″ Hot Dipped Galvanized Rods, Hex Nuts & Flat Washers, 2″ x ½″ FRP Flat Bar, 1″ FRP Round Tube, and if specified, 2″ x 2″ x ¼″ FRP Square Tube.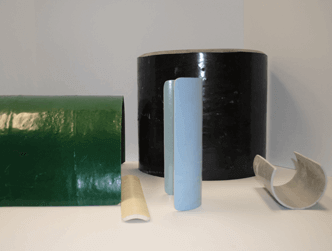 Special Thicknesses / Applications and Custom Fabrication
We can make custom fabrications to match any need you have. Contact Us for more information