FRP and Co-Polymer Half Rounds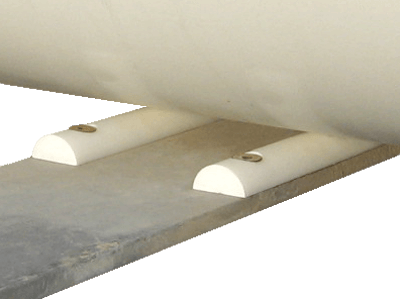 FRP Half Rounds
FRP Half Rounds are a solid, reinforced pultruded material that is composed of various fiberglass reinforcements and polyester resin. Pre-selected reinforcements are drawn through a resin bath and pulled through a heated die that forms a strong dense laminate.
Co-Polymer Half Rounds
Copolymer Half Rounds are a solid, high strength extruded thermoplastic material with excellent physical and weathering properties. The standard material has low moisture absorption and friction coefficient values.
Applications
Half Rounds are generally used in conjunction with
Coated U-Bolts
on above grade pipe supports. The Half Rounds minimize pipe to support surface contact which allows moisture to drain away from the bottom of the pipe at the point of contact. A pipe resting on a flat surface is a natural collection site for moisture. Poor drainage plus moisture is an ideal corrosive environment.
Advantages
When compared to other non-reinforced plastics, the materials compressive strengths are resistant to "cold flow" that results from constant static loading. Tolerates a constant long term operating temperature of 180°F. Available in ¾", 1", 1 ¼" and 1 ½" diameters. Co-Polymer available in lengths to 5ft and FRP up to 20ft.